Antigo, Wis. ~ On paper, it might seem as if round two of the 2021 AMSOIL Championship Off-Road series in Antigo, Wis. was a carbon copy of the previous day's first round. Several classes saw repeat winners from Saturday's action. But how they won on Sunday was a far cry from the opening day of action.
Round two was full of action, much of it stemming from the record heat, deeply rutted tracks and competitive desire to salvage much needed championship points for those who were hoping for better days on Saturday.
When the final flag flew at the Lions Roaring Raceway, the headliners might look the same with a bevy of repeat winners. But each race had its own rhythm and storylines that will reach well into the 2021 season.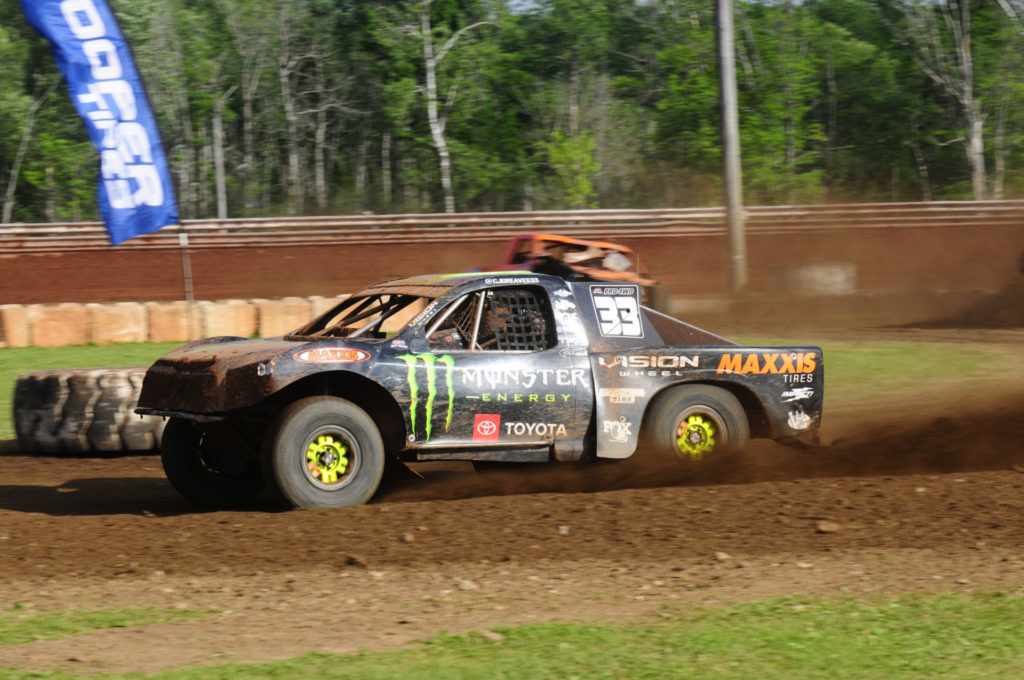 Patience Pays Off For Greaves
Defending champion Kyle LeDuc was looking for the Pro 4 win on Sunday. After a rear end failure on Saturday, he had reworked the truck and was sitting on the front row. All the stars aligned as the big, white Ford pushed away from the back and into clean air.
That truck would stay as white as it was when it left the paddock until the halfway point as LeDuc put on a clinic until the mandatory caution came out. Off the restart, LeDuc had Saturday's winning driver CJ Greaves on his bumper. One lap later, Greaves and LeDuc were heading door-to-door through the infield portion of the horseshoe shaped track. LeDuc would get the edge heading towards the finish line turn. Shortly after though, he started to slow and was forced to pull into the infield and was out of the race.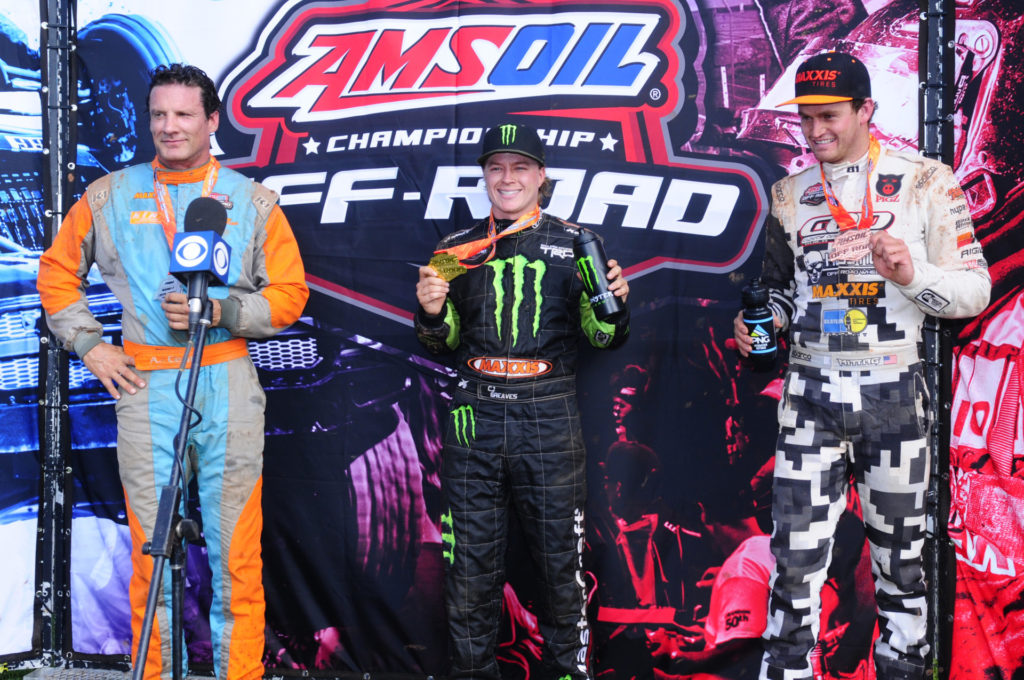 From there, Greaves ran fast and smooth as he routinely squared up every jump and rotated through the challenging ruts with concentrated ease. He would be pressed in the final turns by a hard charging Adrian Cenni, but by then he had his second victory in hand and confidence in the continuous development of his race truck.
"I knew these guys were going to be stepping up their program from yesterday, and everyone knew what to expect from the track," said Greaves. "It just came down to hitting your marks, and the track was nasty again. The ruts were big, and I committed to the outside early on and almost flipped. We've been working on this truck for about a year, and we are finally getting it to where we want it to be."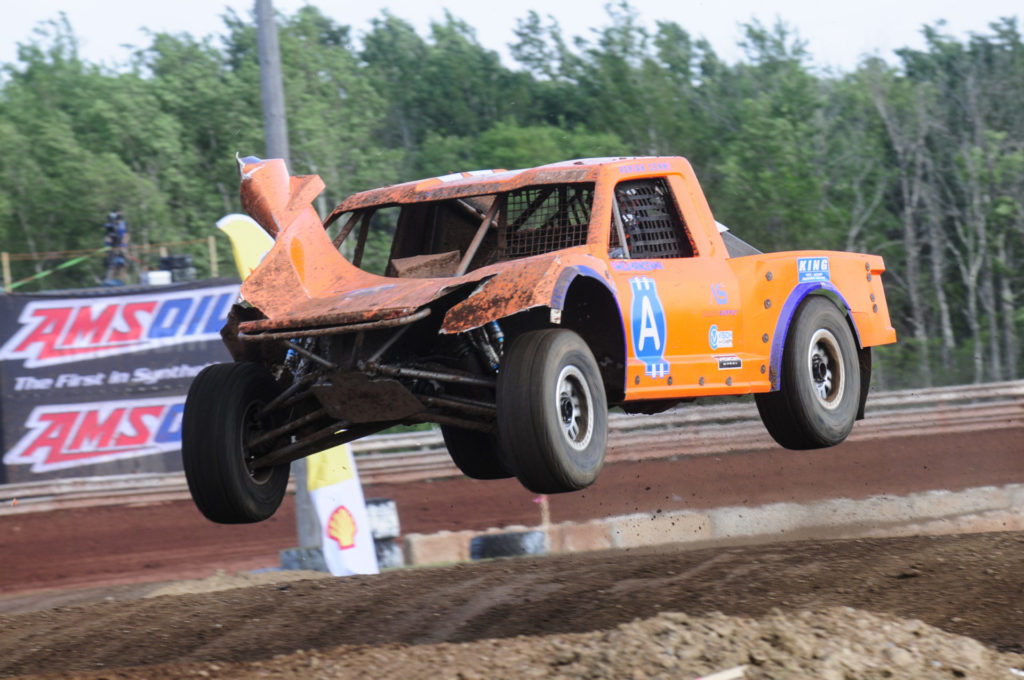 Greaves' win on both days came in large part because of his ability to stay out of trouble. For Cenni, his runner-up position was a similar version of that narrative. Cenni was caught up in traffic early in the race, but was able to keep moving forward and as the clock ticked away, the Wildman was able to find another gear. He found third late in the race, and then moved into second when Andrew Carlson, who had run a great race, spun out in front of him on the last lap. In all, Cenni discovered some untapped power on his way to his 2021 podium debut.
"It was difficult. My truck, I don't know if I picked up a bunch of mud, or what, but it was like a totally different truck," said Cenni. "It hung in there, thought and I just got a new Goodwin motor and it's got a lot of power. But really, it was just a war of attrition."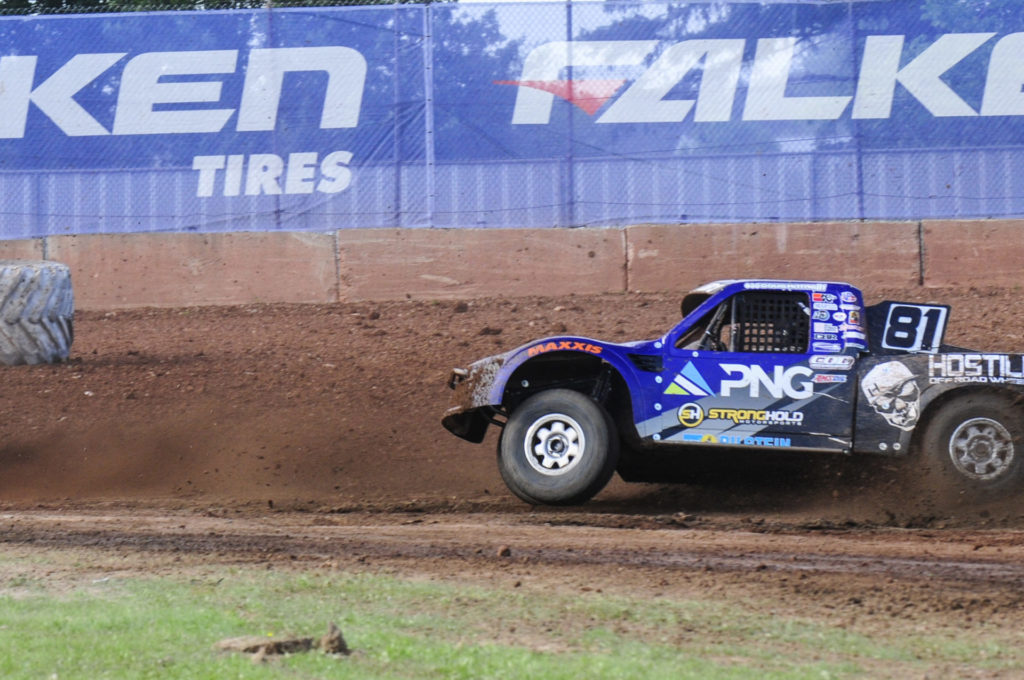 Holding on and keeping away from serious damage also helped Doug Mittag return to the podium for the second straight night. Mittag started near the back of the field and found himself mixed in with several race incidents. But the seasoned pro kept moving forward and found himself back on the box on Sunday, even if he didn't think he had his best day at the track.
"That was not my race," said Mittag. "The truck didn't quite feel right. I just came into this thinking I just needed to get some seat time, we will get the season going, not be an idiot out there and stay out of carnage. Honestly, it just wasn't my day. I just couldn't get in the groove."
Carlson, who had a long battle with CJ Greaves for much of the race, salvaged a fourth place finish. Jimmy Henderson, who rolled late in the race, rounded out the top five.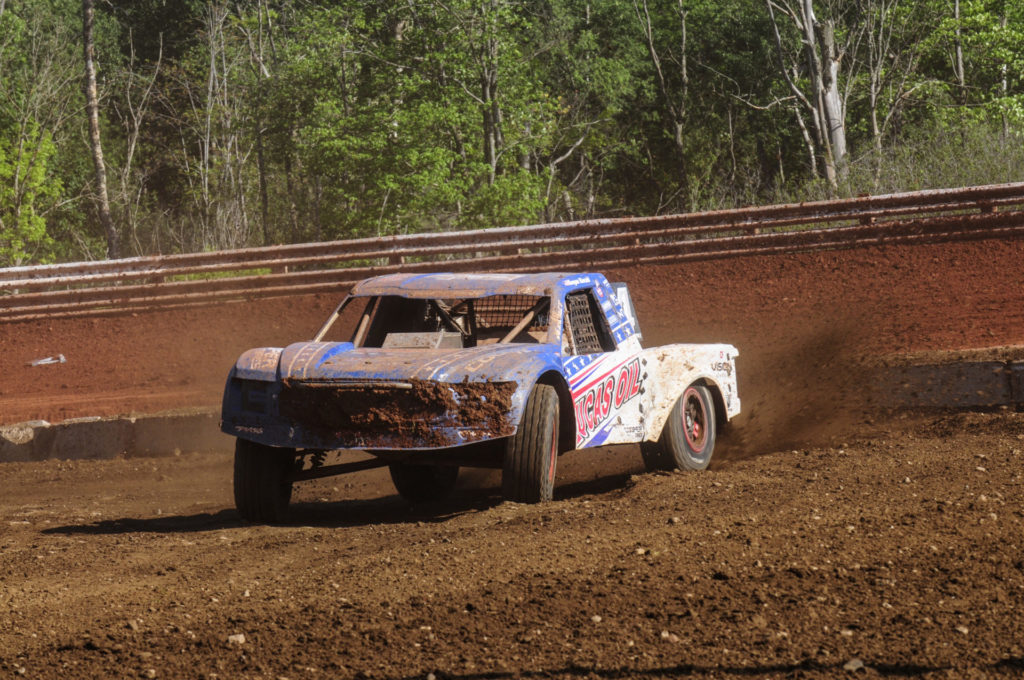 Kincaid Gains Late Traction for Weekend Sweep
By the time the Pro 2 field lined up, the racetrack had been chewed up and was starting to spit back. Finding clean lines was nearly impossible and trying to avoid a deep rut was a pipe dream. With 18 trucks taking the start, it wasn't going to get any easier.
Jerett Brooks was looking everywhere for his first win on Saturday, but Keegan Kincaid did everything in his power to keep him in the second spot. On Sunday, Brooks didn't want to take any chances, grabbing an early lead and was flying around the Antigo track. He had early pressure from Mickey Thomas, who covered Brooks' every move like a sleeping bag. Thomas kept pace, but Brooks was on a rail.
Then the yellow flags started flying. Over the last several laps a number of cautions kept bunching up the field. That gave Kincaid enough of a chance to make something happen.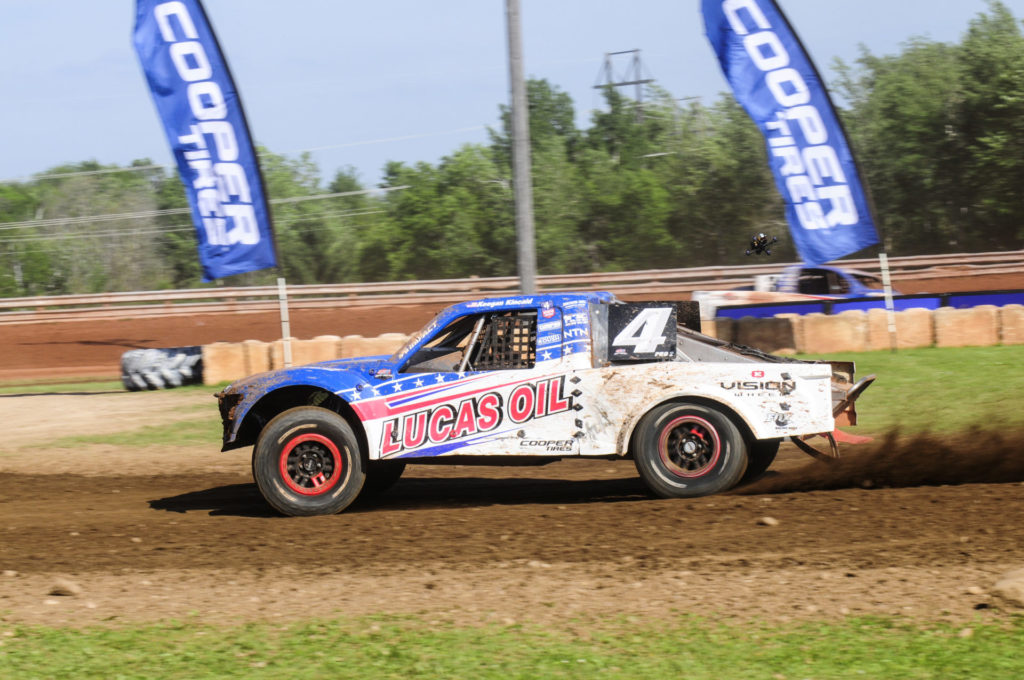 Kincaid started fifth and had to work around defending champion Kyle Kleiman and Corey Winner. It took him until lap 11 to work his way through the logjam, settling in behind Brooks. But with three laps to go, Brooks seemed to slow in one of the tight 180-degree turns, leaving the door open for Kincaid to push past. After that, Kincaid would lead the final two laps and grab his second straight win.
"Patience at the beginning," said Kincaid. "The track was wet and then I got pushed back a bit. I made a couple of moves and got back to fourth. It's hard with the time because we had so many cautions, so you've got to make your moves quick, and it ended in my favor."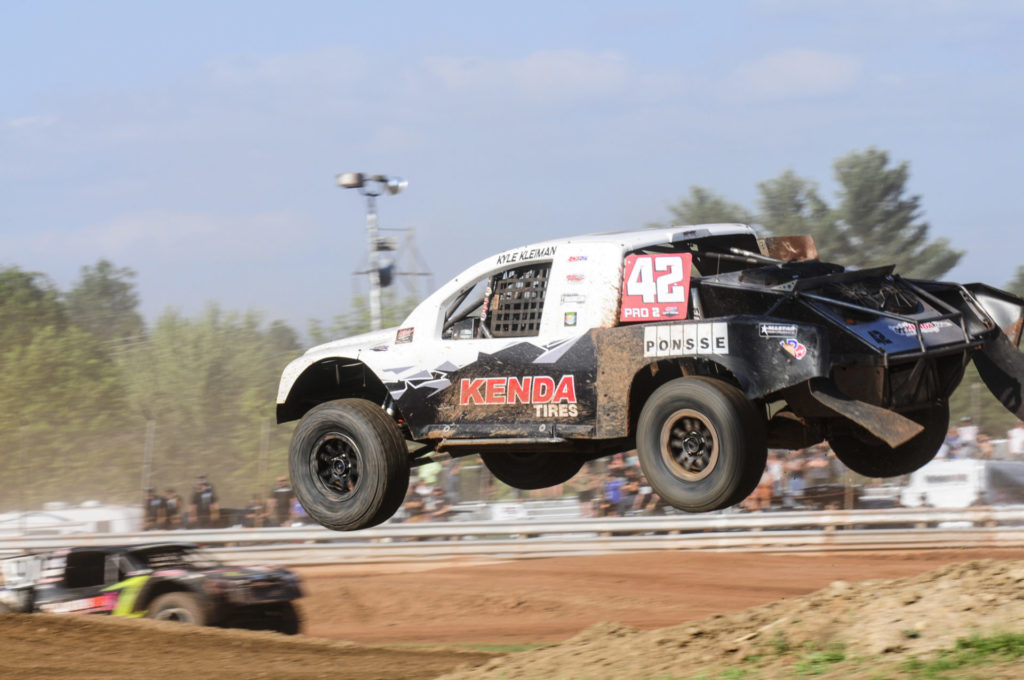 On Saturday, Brooks finished less than a second behind Kincaid. On Sunday, he would remain on the podium, but another tight finish would drop him down to third. In the same incident that allowed Kincaid to sneak through, Kleiman also moved into second. Brooks and Kleiman came through the final turn door-to-door and drag-raced through the checkered flag for a photo finish. Electronic scoring put Kleiman ahead of Brooks by .026 of a second.
"When we got into a little bit of contact there, it blew out the rear shock," said Kleiman. "I honestly didn't know until I hit that back straight-away. I knew Jerett was hot on my butt and we still had to go through the rhythm section, and I didn't know what it was going to do, but it was fun."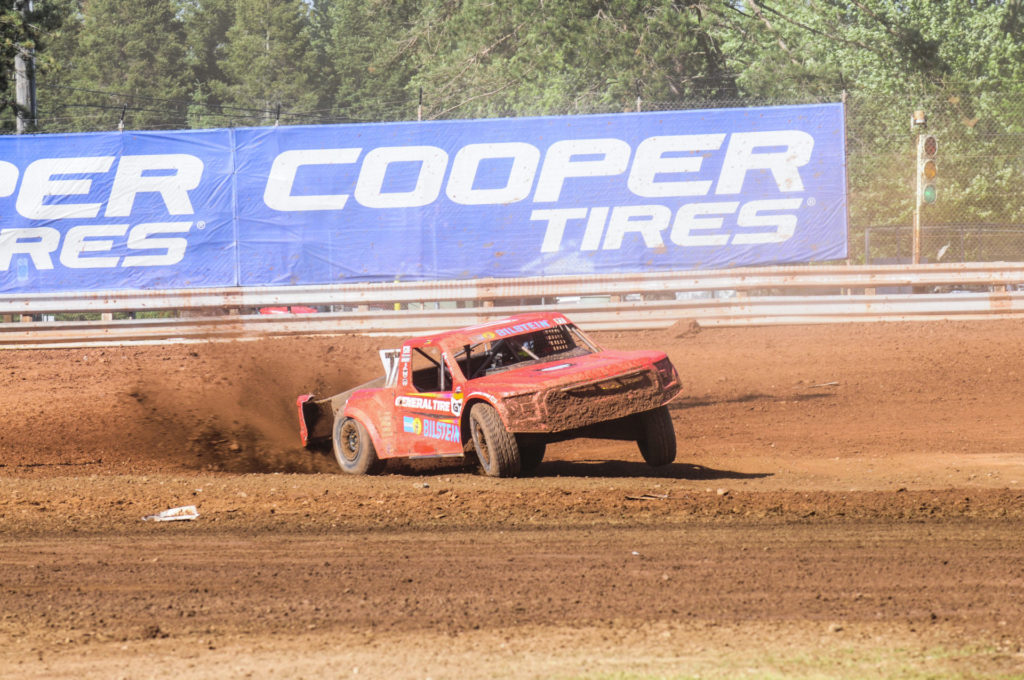 For Brooks, he knew it was going to be a wild weekend, on a track that lent itself to chaos. Being out front is usually the best place to be, but on a tight track, he also knew it would be another challenge.
"This track is so difficult," said Brookes. "I've never been on something that's so hard to get traction. We got the lead early, but it's never fun to get those cautions when you are leading. Everyone wants to win, and if we are going to race like that, let's race like that."
Winner took home a pair of top five finishes, including a fourth on Sunday. Ryan Beat overcame an early exit on Saturday, bouncing back to finish fifth in round two.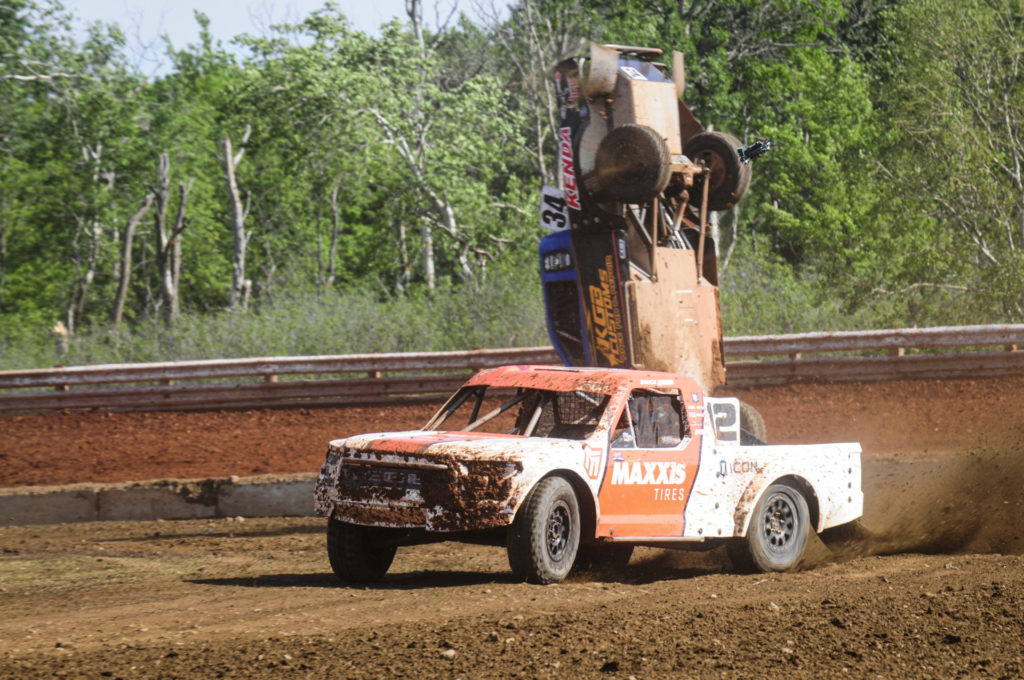 Heger Sweeps Opening Weekend in Pro Lite
Brock Heger took what the race gave him on Sunday. After winning in his series Pro Lite debut, Heger had to start in the fifth row. With the track all scuffed up, the Californian would need to stay clear of the clutter that was expected to come in the first few turns.
After a crazy start in turns one and two, it was Mason Prater who grabbed the first lead, but Heger was right there after skirting trouble in turn two. Before the first lap was finished, Heger had the lead and backed up his first round win with flawless execution in round two.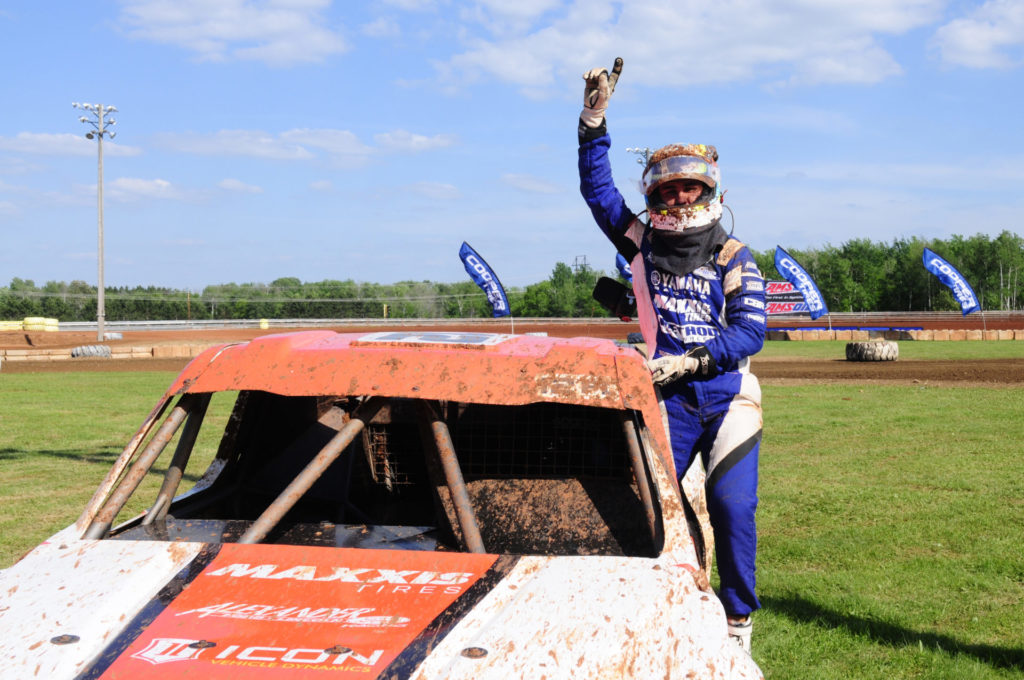 "I was starting tenth and I thought there was no way I was coming back with a body on," said Heger. "But on the start I saw some dry lines up on the k-rail, so I just sent it all the way around turn one and I came out in second, and I'm like 'Wow'. It made it a lot easier. Then I just went out and tried to find some grip and the truck just hooked up."
Much like the day before, the battle for second was hectic. Early on, several trucks laid claim to the runner-up spot, but when the dust started to settle it was Kyle Greaves who seized control. He was able to put pressure on Heger, but he couldn't close the remaining gap. For a majority of the race, it looked like Greaves was going to finish on the podium two days in a row, but he caught a rut with two laps to go, allowing Cole Mamer to move into second.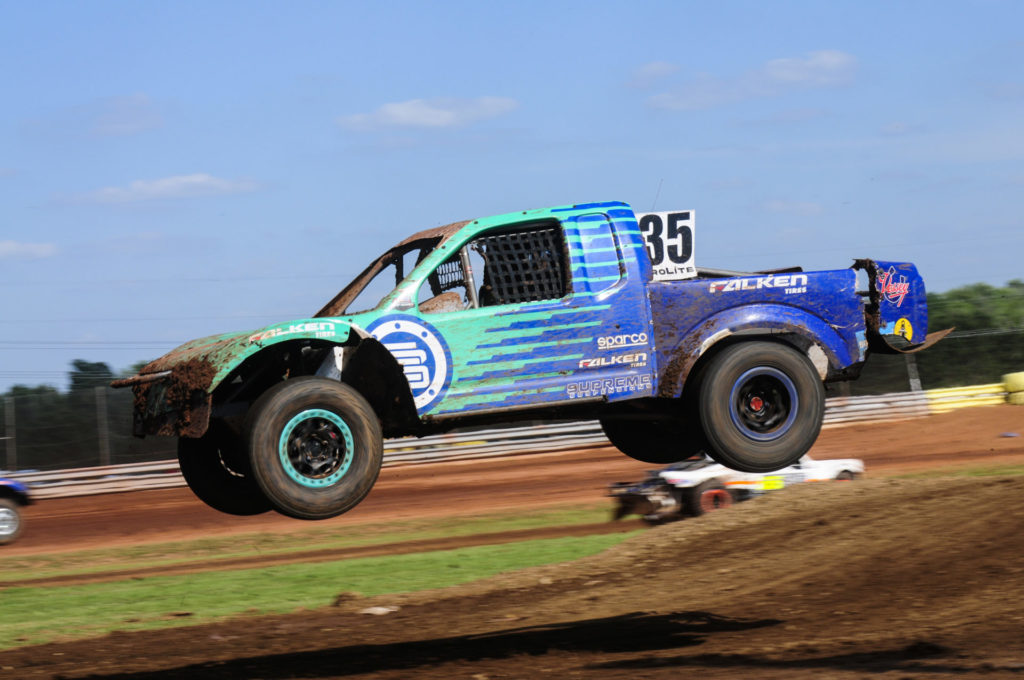 For Mamer, who overcame a disappointing Saturday that saw an early exit to the opener, he knows they have a contending truck that will continue to get dialed in as the season progresses.
"We regrouped (after Saturday). We made some adjustments to the truck and the truck was fast" said Mamer. "Not as fast as I want it. I'm not 100% comfortable yet. But here comes Crandon and that thing's going to be a rocket ship."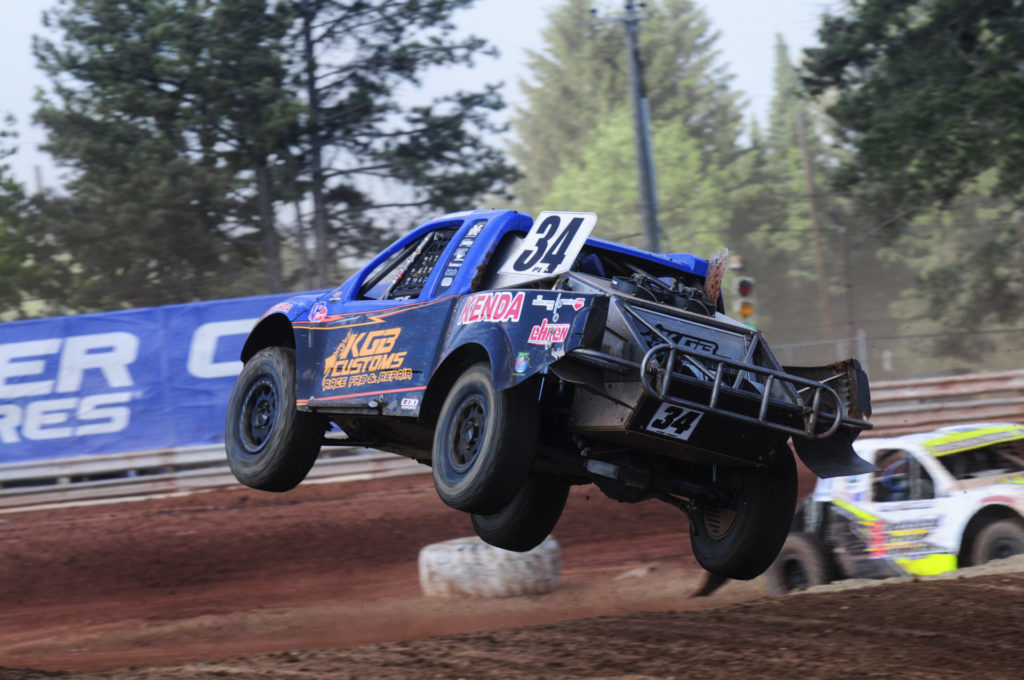 For Greaves, who regrouped himself and finished third, his topple stings a little bit less because he knew he had to push the truck to catch Heger and get the win.
"I thought if I could get a little bit more in those corners, I might have something for (Heger)," said Greaves. "But I just sent it into that corner and there's a big hole."
After leading, Prater bounced all the way down to seventh and was able to string together a late charge that moved him into fourth. Chad Rayford pushed through the crowd to finish fifth.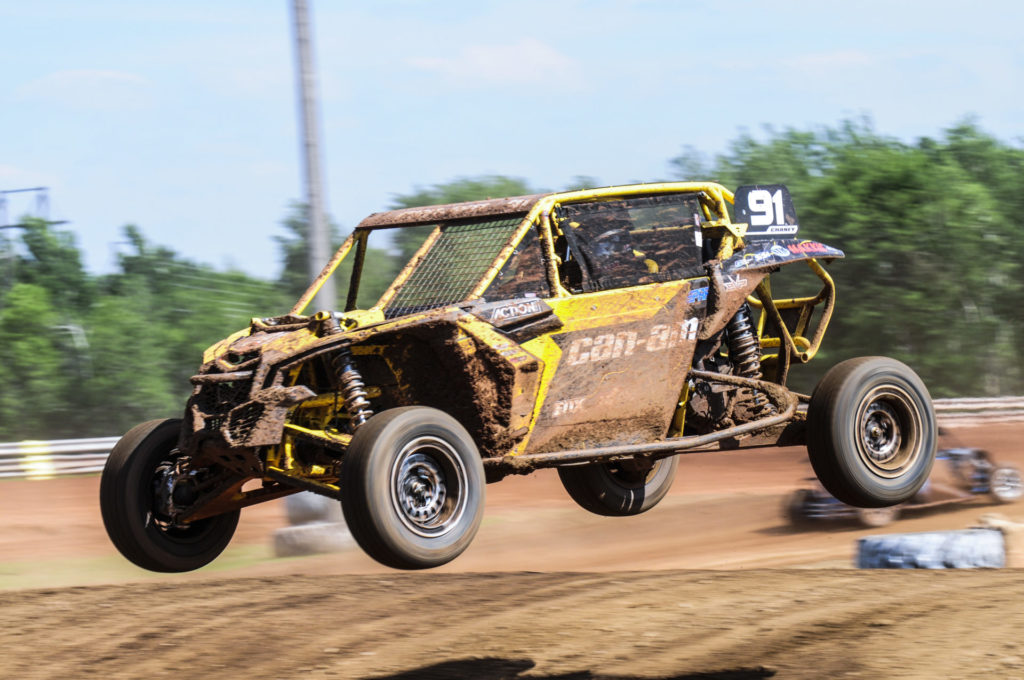 Chaney Responds After Opening Night Adversity
Can-Am's Kyle Chaney is on a mission of redemption after an uncharacteristic tough year or racing in 2020.  The championship contender in Pro Mod SXS has been racing at every opportunity, looking to rediscover his winning mojo. On Sunday, Chaney's bounce-back campaign came complete as the Ohio native was dominant on his way to his first Pro Mod win of 2021.
First, Chaney had to overcome one last major hump of adversity. After bowing out of the Saturday's race after two laps, Chaney was forced to start at the back of the field. But the former short-course champion was determined to get to the front. He pushed his Can-Am from 20th off the start and into the lead in less than three full laps. Even after some tight racing after the mandatory caution, Chaney was not going to be denied, opening up a nine-second win.
"I knew we had the car to win yesterday," said Chaney. "Yesterday we only made it two laps. So, my guys stayed up all night working on the car. We didn't get it done until like ten minutes before the race, and I go to the line and it's in limp mode. I end up going back to my trailer, calling Can-Am. We messed with some wires and got it running. It definitely was tough coming from last, but I wouldn't have it any other way."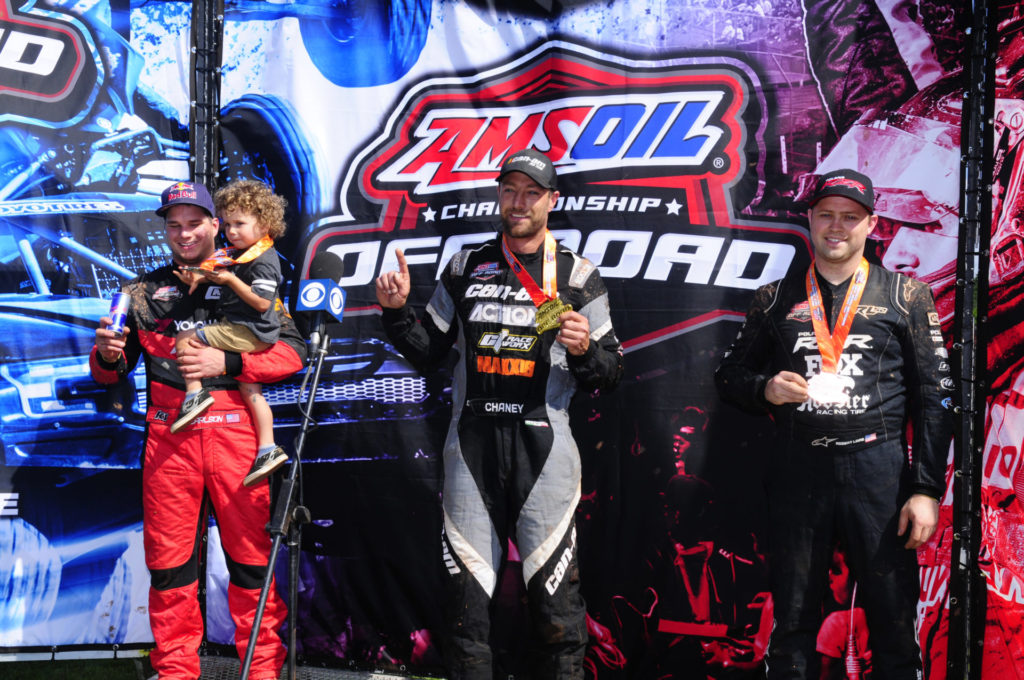 Saturday's winner Andrew Carlson (Polaris) put in another fantastic run on Sunday. He was fast and smart, finding ways to just avoid getting tangled up and finding fast lines that allowed him to work through the pack and pass a number of fast cars on his way to a second place finish.
That included early race leader, Robert Loire, just after the mandatory caution. Loire would have his hands full with Rodney Van Eperen, who finished fourth. Brian Waszak rounded out the top five.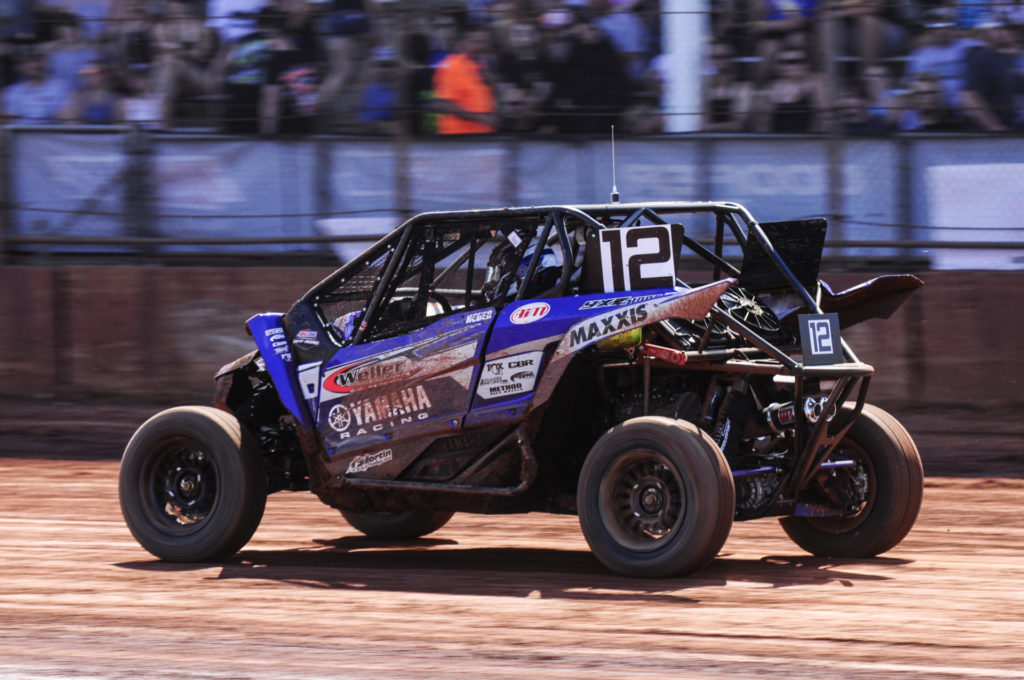 Heger Answers Back in Pro Stock
Brock Heger isn't feeling any pressure from his first year racing in Championship Off Road. The Yamaha driver has been extremely fast, both in a crowd and out in open air. He worked through a flat tire on Saturday to finish third in Pro Stock SXS before working his way through traffic to win Pro Lite.
On Sunday, Heger found a cleaner track for the Pro Stock race, moving quickly to the front on the first lap. That clean air proved beneficial as he was able to control the race on his terms. He didn't miss a beat, despite heavy pressure from Saturday's winner, CJ Greaves, for much of the second half of the race. Greaves made several late charges on Heger, but was unable to get around his fellow Yamaha driver.
"I started fourth and I knew CJ was behind me," said Heger. "In turn one, I got a good start and was in second and I knew I had to hurry-up and make some quick work because I knew these guys were going to be coming. I wanted to keep the car light, not make mud on the front, get out front and hopefully run away."
The defending champion Greaves kept pace with Heger to finish second. Scott Wasz found himself in a race-long battle with Jacob Rosales. Wasz would hold down third, ahead of Rosales and fifth place finisher RJ Lego.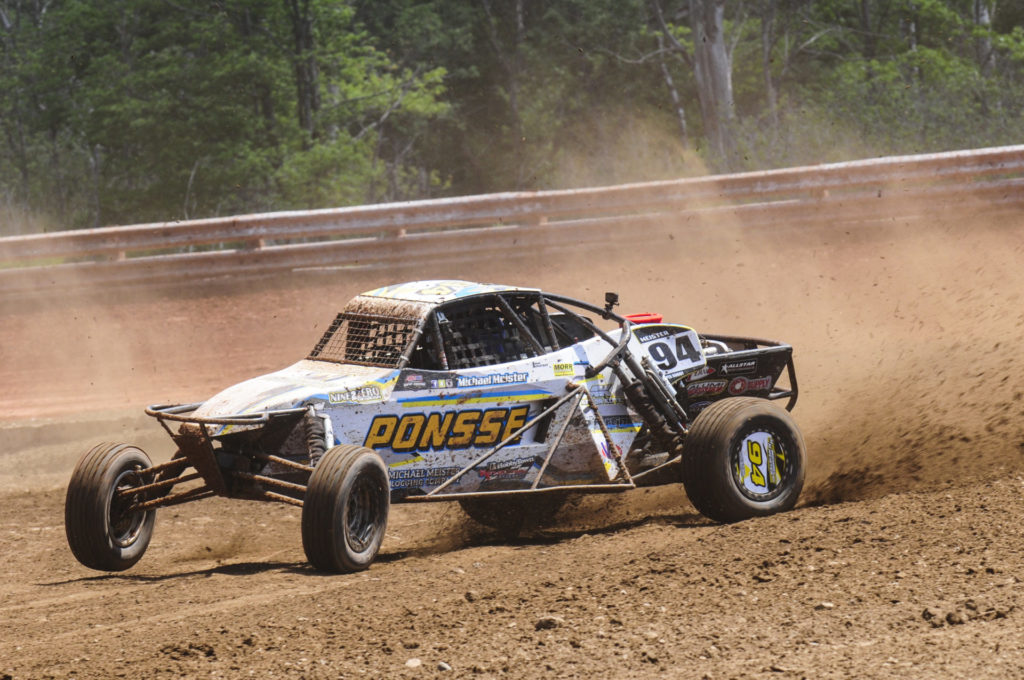 PRO BUGGY: Mark Steinhardt led the Pro Buggy race for the first eight laps, and looked to be in control until he got squirrely in the whoops section. That opened the door for Saturday's winner Michael Meister to snag the lead. Meister, who has now won four straight Pro Buggy races in Championship Off Road, found another gear in the open air and throttled down to the win. Steinhardt didn't let up as he picked up his second podium this season. Despite spinning while running in second, Mike Kirkham regrouped and clawed back to finish third.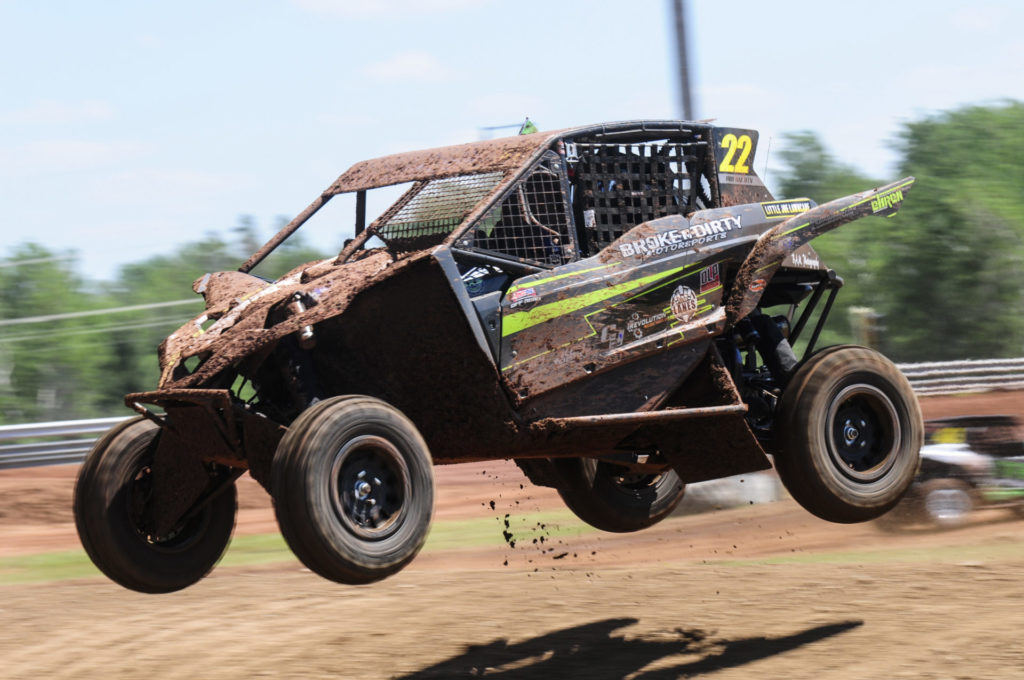 PRO AM SXS: After two rounds, Dylan Marquardt is in control of the Pro AM SXS class. Marquardt worked his way into the lead from his fifth place starting spot on lap three. While he never gave up the spot, Jake Kosmecki was on his rear bumper for the final several laps. Kosmecki had great speed to catch Marquardt, but Marquardt was smooth through the turns to hold off and pick up his second straight win. Dylan Parsons finished third.
SHORT COURSE KARTS: One day after finishing third, Race Visser nabbed his first Short Course Karts win of the season. Visser got clear of the pack on lap two, after overtaking Saturday class winner Ellah Holtger. Holtger ran well ahead of the pack herself, finishing second ahead of Draxton Szymik, who edged out Kody Krantz by .185-of-a-second for third.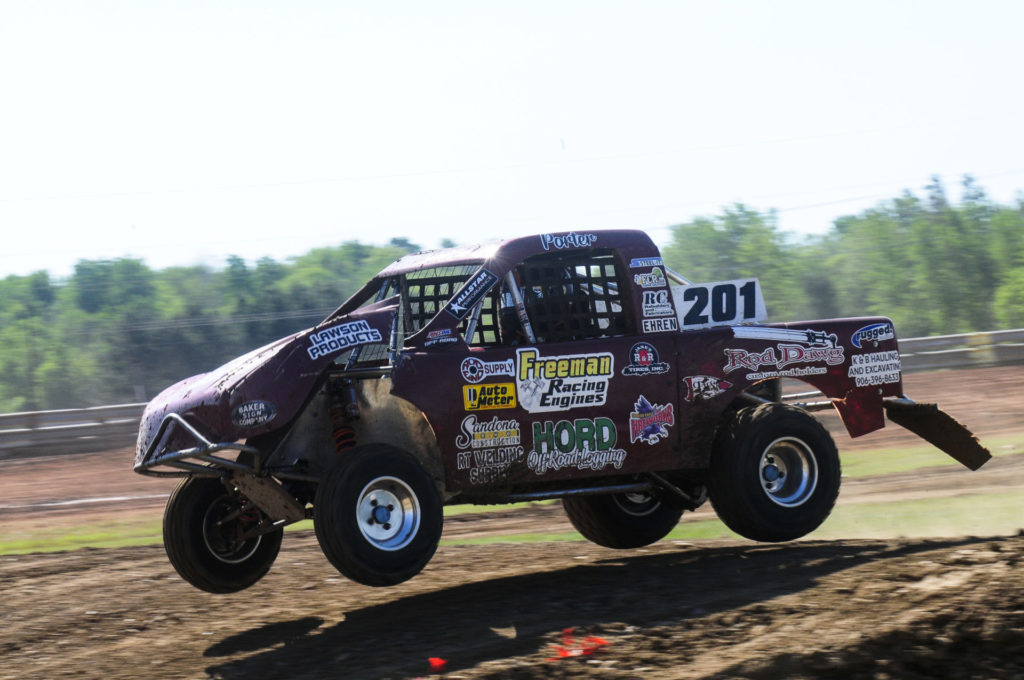 MOD KARTS: Porter Inglese found the podium on Saturday with a third place finish. On Sunday he moved up two spots to take his second career Championship Off Road Mod Kart win. Saturday's winner Easton Sleaper finished a close second and Michael Funk made it a double-podium weekend in third.
1600 LIGHT BUGGY: Colin Schulz was once again on point in the 1600 Light Buggy race. Schulz held off several hard chargers to pick up his second straight win. His twin brother, Connor, and Greg Stingle went head-to-head over the last two laps for the runner-up spot. When the dust settled, Stingle finished second for the second time . Connor Schulz survived some late contact to finish third.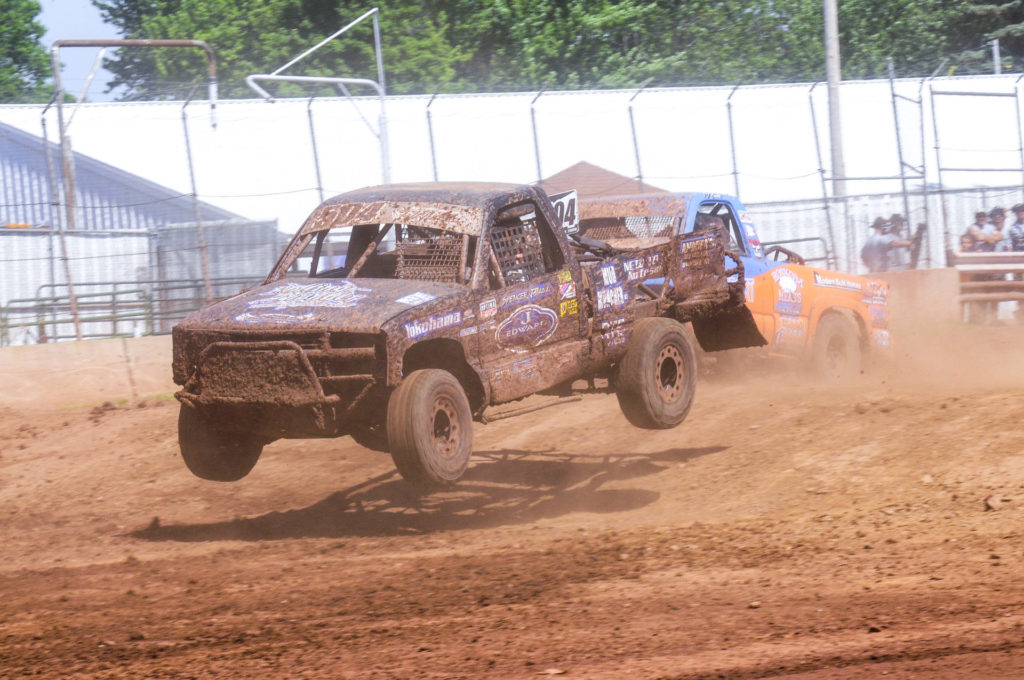 STOCK TRUCK: Scott Boulanger notched his first career win in the Stock Truck class on Saturday. He picked up his second career class win on Sunday. Diesel Shanak made it two straight podiums by holding off Stan Wood on the last lap for second.
1600 SINGLE BUGGY: John Fitzgerald worked his way through traffic during the first half of the 1600 Single Buggy race before taking complete control, and the win, in the second half. He was pressured by early race leader Tony Keepers, who finished second, ahead of Jeff Bechinski who crossed the stripe in third.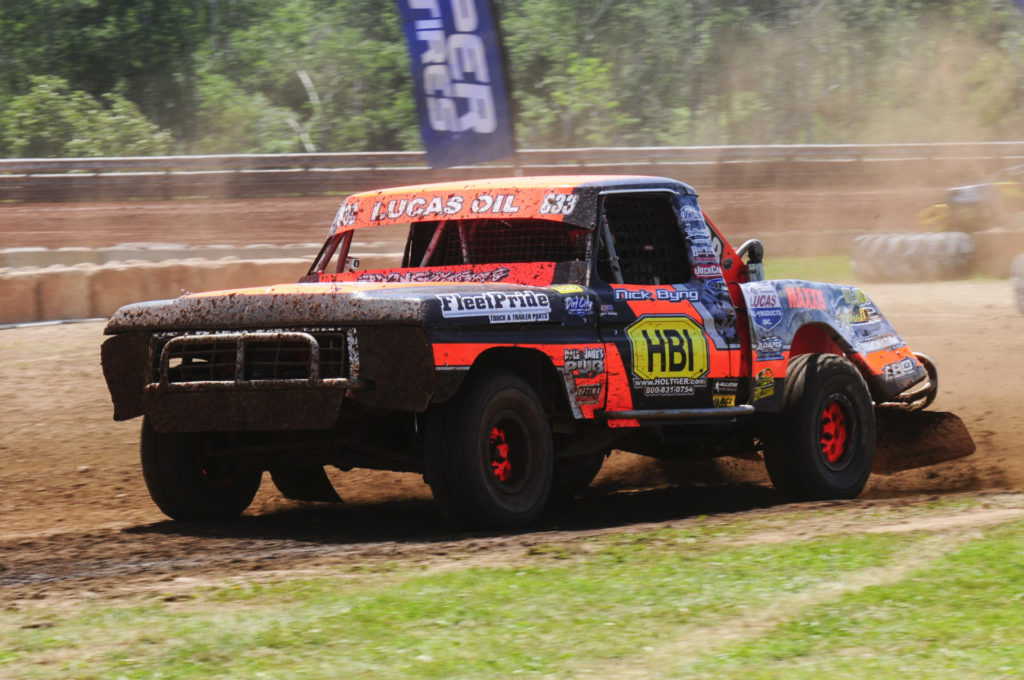 SUPER STOCK TRUCK: It was another wild race for the ultra-competitive Super Stock Truck class. Joey Maciosek held the early race lead, but Saturday's winner Nick Byng found the right amount of traction to make a third lap pass. Byng made the move stick for back-to-back opening weekend wins. Kyle Cooper worked his way back into second on the final lap and was able to hold off Maciosek for the second podium spot.
SPORTSMAN SXS: It was a drag-race to the finish in Sportsman SXS on Sunday, with former buggy driver and first round winner Derek Tilkens taking the win at the line. Tilkens edged out Derek Liebergen by .058 as the pair crossed the finish line. Cody Jones worked his way from seventh to notch another podium finish in third.
170 SXS: Raymond Deininger backed up his Saturday win with a second straight win in the 170 SXS class. Kody Krantz picked up his first podium of the season in second. Madisyn Winistorfer also made her first trip to the podium in 2021 by finishing third.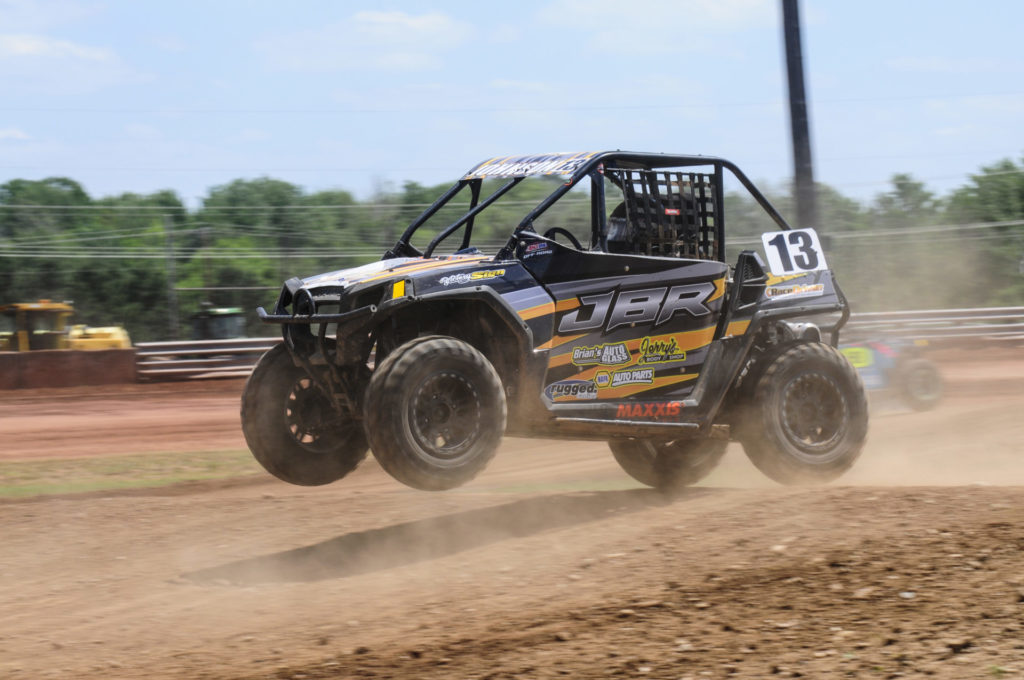 570 SXS: One of the newest classes in Championship Off Road found a new winner on Sunday. Andy Johnson didn't miss a beat on his way to the win in 570 SXS. Ethan Dresel finished second on Saturday, and despite landing on his roof late in the race he was able to regroup to finish second again on Sunday. Ben Heiting finished third for the second straight day.
AMSOIL Championship Off-Road heads to Crandon, Wis. and the Crandon International Raceway four two full days of racing, June 26-27. Each Championship Off-Road event will be live-streamed at Champoffroad.com or on Flo Sports.